Sonic the Hedgehog 2
Page 1 of 5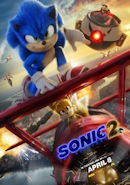 Basic Information
Current Status
Filming
US Release
April 8th 2022
DVD Release
2022
Official Sites
[US] [UK] more »
Genre
Animation / Action / Adventure
Running time
-
Credits
Ben Schwartz ... Sonic (voice)
James Marsden ... Tom Wachowski
Jim Carrey ... Dr. Robotnik
more »
Story Line
Sonic the Hedgehog 2 centers on Sonic (Ben Schwartz) and his friends, such as Tails and Knuckles, who run around collecting items and points as they attempt to foil the global domination plans of Dr. Robotnik (Jim Carrey). more »
Discussion
see our forum
Multimedia
Trailer, Pictures,
Related News
16 Mar 2021

Sonic the Hedgehog 2 Begins Production

Last year, we got to see Jim return to the silver screen playing the villain Dr. Robotnik in the movie "Sonic the Hedgehog". The movie was a box office success, despite the pandemic cutting it's time in theaters short. A few months after we got the amazing news that we would have a sequel to look fo...

Read more

12 Feb 2021

Jason Momoa Offered Knuckles Voiceover Role In Sonic 2

Now that "Sonic the Hedgehog 2" is going to start filming in March, more news have surface about the sequel. The other day the official title was revealed. The latest is that actor Jason Mamoa (The Bad Batch) has been offered the role of Knuckles the Echidna. So far, there is no official confirma...

Read more

11 Feb 2021

Official Title and Teaser for "Sonic The Hedgehog" Sequel

Yesterday, the official Twitter account for the movie "Sonic the Hedgehog" released the official title for the sequel in a cool teaser. Last year Paramount Pictures and SEGA gave us some clues about the sequel, revealing that Jeff Fowler will continue to direct, and Pat Casey and Josh Miller will se...

Read moreRelated headlines

02/08/2021

Sonic Animated Series on Netflix and Lego Set

01/28/2021

Sonic 2 - Filming Locations

11/23/2020

Sonic the Hedgehog 2 Production Start in March

07/24/2020

Paramount sets a date for "Sonic the Hedgehog 2"

06/22/2020

Possible Sonic the Hedgehog 2 Release Date

06/01/2020

Sequel to Sonic the Hedeghog in the Works!
1
|
2
|
3
|
4
|
5
|
Next »