BIOGRAPHY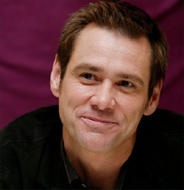 Name
James Eugene Carrey
Birthplace
Newmarket, Ontario, Canada (map, Wikipedia)
Birthdate
January 17, 1962
Debut
"Introducing Janet" (TV movie, 1981)
Family
Percy (father)
Kathleen (mother)
Pat, John & Rita (siblings)
Melissa Womer (ex-wife, 03/28/1987 - 12/11/1995)
Lauren Holly (ex-wife, 09/23/1996 - 07/29/1997)
Jane (daughter, with Womer)
Mini Biography
Born in Newmarket, Ontario, Canada in 1962, Carrey found his calling at an early age, performing in front of classmates in elementary school -- and making them laugh. At age 15 he began performing at Yuk Yuk's, a famous Toronto comedy club, and continued performing in clubs all over Canada until age 19, when he packed his bags and moved to Los Angeles. Soon after becoming a regular at Mitzi Shore's Comedy Store, he was put on tour by comedian Rodney Dangerfield, who had caught his act and was impressed by the young talent.
Full Biography
By Nicola West and Eva Ara˙jo

Jim Carrey, Film Star, Survivor, Inspiration. From humble beginnings to superstardom, he joins an elite group of comedians who have spanned the acting chasm to achieve phenomenal success. This is his story.

Read on »
Some Trivia
He doesn't have a high school diploma. He left high school in the 9th grade, because his family was in hard economic times.
He appeared at the 20th anniversary special for The Comedy Store wearing nothing but a sock on his privates.
He received U.S. citizenship on October 7, 2004, and now maintains dual citizenship of the U.S. and his native Canada, where he has had a star on Canada's Walk of Fame in Toronto since 1998.
He was chosen as the winner of the 2006 MTV Movie Awards MTV Generation Award in honor of his dynamic career.
His original family name - Carré - is French.
Where he lives
Jim Carrey lives currently in New York City.