The Mask
Page 1 of 5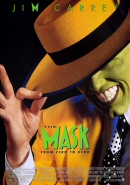 USA 29 Jul 1994
Netherlands 20 Oct 1994
France 26 Oct 1994
Germany 24 Nov 1994
Spain 25 Nov 1994
Australia 8 Dec 1994
Finland 23 Dec 1994
Denmark 25 Dec 1994
Sweden 25 Dec 1994
Argentina 29 Dec 1994

»
Imdb.com
»
MovieWeb
»
Yahoo! Movies
»
Wikipedia
Basic Information
Current Status
On DVD
US Release
July 29, 1994
DVD Release
November 24, 1998
Official Sites
Not available anymore
Genre
Comedy
Running time
97 minutes
Credits
Jim Carrey ... Stanley Ipkiss/The Mask
Cameron Diaz ... Tina Carlyle
more »
Story Line
Stanley Ipkiss (Jim Carrey) is a wimp but when he finds a mask that depicts Loki, the Norse night god of mischief he becomes a manic super hero.
more »
Discussion
see our forum
Multimedia
Trailer, Pictures, Video Clips, Sound Clips
Related News
07 Jan 2015

Memorable Moment: Space Ghost in 1994

Jim Carrey was interviewed in 1994 in the show 'Space Ghost Coast to Coast' to promote his new movie "The Mask". For those of you who don't know who 'Space Ghost' is it a Late Night Fictional Talk Show Host in the USA. He seems like a funny little chap, dry wit he needs this for taking on Jim Car...

Read more

13 Jun 2011

Jim Carrey awarded the Funniest M.F.

Jim Carrey was awarded the Funniest M.F. at the Guy's Choice Awards held on June 4th 2011 at the Sony Pictures Studios in Culver City, CA. The event aired on Spike TV on June 10th 2011. "The Mask" co-star, Cameron Diaz presented Jim Carrey the award. When he accepted his prize at the show, he beg...

Read more

20 Feb 2011

Memorable Moment: Carrey on Letterman (1994)

Jim Carrey made an appearance on 'The Late Show with David Letterman' in July 1994 to promote his new comedy "The Mask". He said what's responsible for his success and popularity - self motivation tapes. Jim Carrey told Letterman that he is pissed about the tabloids because 90% of what they write...

Read moreRelated headlines

10/18/2008

"The Mask" and "Dumb and Dumber" also on Blu-ray

03/12/2007

Comedian Richard Jeni Dead

05/16/2005

The Mask (New Line Platinum Series)

03/08/2005

The Mask (New Line Platinum Series)

08/01/2001

Jim back in "The Mask 2"?
1
|
2
|
3
|
4
|
5
|
Next »