Horton Hears a Who!
Page 3 of 5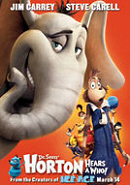 Production Notes
With his signature evocative and rhyming text, writer and cartoonist Dr. Seuss, an American treasure whose books have delighted generations of young people, opens one of his most beloved tales, Horton Hears a Who!
Now, over fifty years since Seuss, whose real name was Theodor Seuss Geisel, published this perennial favorite, the makers of ICE AGE and comedy giants Jim Carrey and Steve Carell, bring it to life in a way never before experienced. For the first time, a motion picture transports audiences into Dr. Seuss' incredible imagination, through stateof-the-art CG animation. DR. SEUSS' HORTON HEARS A WHO! ™ is Seuss as you want to experience his work at the movies – and as it was meant to be seen.
The film, like Seuss' book, presents an imaginative elephant named Horton (Carrey) who hears a faint cry for help coming from a tiny speck of dust floating through the air. Although Horton doesn't know it yet, that speck houses an entire city named Who-ville, inhabited by the microscopic Whos, led by the Mayor (Carell). Despite being ridiculed and threatened by his neighbors, who think he has lost his mind, Horton is determined to save the particle…because "a person's a person, no matter how small."

© Blue Sky Studios
Horton's eight-word explanation for his actions embodies an idea both simple and profound, and which means so much, to so many. The film provides more food for thought, having Horton explains to his skeptical friends: "If you were way out in space, and you looked down at where we live, we would look like a speck."
Then there's Horton's code…his motto… that, "an elephant's faithful 100 percent" – pointing to his honesty and determination to never abandon his mission to find a new home for the speck that houses the incredible world of Who-ville.
These philosophical declarations point to Seuss' unique ability to take complex issues and boil them down into understandable thoughts that anybody, at any age, could understand.
It all comes together through the vision of a master storyteller, the magic of computer animation, and the special alchemy of three generations of comedy stars – Carrey and Carell are joined by the legendary Carol Burnett, as well as cutting-edge talents Will Arnett, Isla Fisher, Amy Poehler , Seth Rogen and Jonah Hill – to create an all-audience comedy event.
Giving Birth to Horton (the movie)
Horton began his new journey to the big screen in 2003, when executive producer Christopher Meledandri, then president of Twentieth Century Fox Animation, which supervises the East Coast-based Blue Sky Studios, approached Dr. Seuss Enterprises and the author's wife Audrey Geisel, about creating a 3-D animated movie based on Horton Hears a Who! Meledandri's proposal to Audrey went far beyond simple business interests. "Ted Geisel had one of the greatest imaginations of the twentieth century," he says. "His books were a seminal part of my childhood and I have always wanted to find a way to make a digitally animated Dr. Seuss movie."
The book's narrative structure was of particular interest to Meledandri and Fox Animation. "It's one of the few Dr. Seuss books with three acts – a great beginning, middle and end. And of course, 'a person's a person no matter how small' is a wonderful theme."
Audrey Geisel wanted to make sure that the film adaptation be respectful of her late husband's book. Meledandri assuaged her concerns, pointing out to her the considerable merits of CG animation and the proven successes of Blue Sky Studios, whose "Ice Age" and "Ice Age: The Meltdown" created fantastical characters; and whose "Robots" depicted a fantastical world. The films' artistry enveloped audiences in their environments and characters, suspending disbelief that they weren't "real." That same magic, Meledandri told Audrey, would do the same for DR. SEUSS' HORTON HEARS A WHO!
To help close the deal, Meledandri asked Mike De Feo, head of Blue Sky's sculpting department, to sculpt a pivotal scene from the book, in which the Mayor holds his son Jo-Jo above his head. As it turned out, the scene was one of Audrey's favorites, and she loved the sculpture. Some time later, development commenced on the first CG animated feature film based on a work by Dr. Seuss. Horton, the Mayor, Jo-Jo, the Kangaroo – and all the beloved characters in the jungle of Nool and in the city of Whoville – were on their way to movie stardom.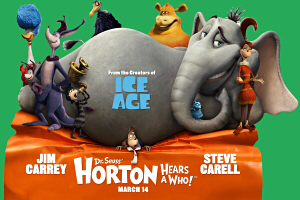 © Blue Sky Studios
To guide their journey, the studio tapped Jimmy Hayward and Steve Martino to direct. They were a perfectly matched duo to bring Horton to digital life. Hayward was an animator on the groundbreaking Pixar films "Toy Story," "Toy Story 2," "A Bug's Life," "Monsters Inc." and "Finding Nemo"; and a story consultant and director of additional scenes on "Robots." Martino, as art director on "Robots," helped create the first animated feature that presented a totally imagined world – a wondrously clanky universe populated solely by mechanical beings.
Hayward and Martino's mandate was to stay true to Seuss' themes, characters and visuals. They based much of the look on Seuss art taken directly from the book, while other designs in the film are extrapolated from the author's drawings or notes. Additionally, the filmmakers strove to push the medium of CG animation as far as possible, mixing old and new techniques to provide a look never before experienced in a motion picture, yet reminiscent of the era – the 1950s – the book was published. "We pushed everything, creating weird, fun Seussian colors and shapes, but with real textures," says Hayward.
In previous live action movies based on Seuss' works, the filmmakers had to try and get around real-world constraints in design, movement and anatomy. "We didn't have that problem," says Hayward, "because this is a CG movie. For the first time in my career, we could push the animation to all kinds of crazy places just as Seuss pushed his work into some wildly imaginative areas."
Who's who in Who-ville...and what's "noo" in nool:
Meet the characters
Horton is not like any elephant we've seen before. He is bigger than life in many ways beyond bulk; he has a big heart, big personality, and a big sense of fun. Horton shines through kindness, trustworthiness and perseverance. Despite formidable adversity, ridicule, condemnation and threats, Horton's resolve to bring Who-ville to safety, remains steadfast. He's always faithful…100 percent.
According to the filmmakers, Jim Carrey brings far more than his superstar comedy talents to the role of Horton. "Jim has a warmth and humor that's amazing, and which kept Horton that sweet, lovable character we know from the books," says Jimmy Hayward. "He's a passionate, creative force and really owned the character.
"Jim really puts his entire face into everything he does," Hayward continues. "He acts out every take just as he would if he were actually before the cameras. He gave us some great eye acting references, so we got an extraordinary amount of subtle Horton stuff out of Jim from his voice performance."
Given Carrey's full-throttle expressiveness, it comes as no surprise that he influenced Horton's look. Says lead animator Dave Torres: "In early design stages, Horton had a smaller mouth. But when Jim came aboard, the character became very expressive; in fact, Jim led us to really push the boundaries of expressiveness for an animated character."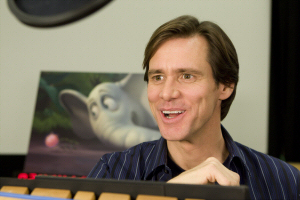 © Mark Fellman
Horton's chief relationship in the story is with the Mayor of Who-ville, whom Horton never sees, and who cannot see him. Yet the bond they form is a remarkable one, rich with warmth, friendship and humor, even though the stakes for both are life and death. As Horton makes his epic journey to bring Who-ville to safety, the Mayor – the voice of all the Whos – risks everything to convince his constituents of the dangers ahead.
Dr. Seuss so memorably introduces the Mayor as "…devoted and fair, and a little bit odd. The Mayor and his wife, they had children to spare." And how! They are proud parents to 96 daughters and one son. The endless parade of offspring is introduced sitting on chairs attached to a conveyer belt that rotates around the table, so that each has a brief but impactful audience with the Mayor; it's an imaginatively patterned procession reminiscent of a scene from a Busby Berkeley musical.
Steve Carell, says director Steve Martino, brings a sense of humanity to all his characters, like "The Office's" perpetually-clueless boss Michael Scott and, now, the besieged and beleaguered Mayor. "All of Steve's characters have a beautiful heart inside," says Martino. "You want to root for them."
"You like to watch Steve's characters struggle," adds Jimmy Hayward. "Watching him 'spin plates' – it's a pleasure. He rubs the right amount of 'Steve' on every line of dialogue. He's the one Who we really get to know, so you want to relate to him, and thanks to Steve, you do."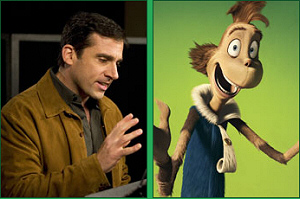 © Richard Radstone
Carell describes the Mayor as "kind, generous, well-intentioned, with a lot of internal fortitude. He's sort of an everyman – a guy just trying to do his best in a very difficult situation." The Golden Globe®-winning actor particularly appreciated the philosophical underpinnings of Horton's insisting that a person's a person, no matter how small. "It really speaks to the world around us – that no matter how different we seem on the outside, if there is decency, caring and commitment, things can get accomplished. It's a good, sweet, and solid message that's rooted in kindness. And that's what I love about it."
The Mayor's pride and joy is son Jo-Jo, the littlest Who. The Mayor has big plans for his diminutive son, grooming him to continue the family legacy by taking over as head of the Whos when the Mayor retires. But Jo-Jo has made it abundantly clear that he does not want his father's career. Instead, the taciturn young man is pursuing something very, very different and special...
The chief threat to Horton's quest – and in turn to the survival of Who-ville – is the Kangaroo, who, as the film tells us, "made every law and enforced every rule, as selfproclaimed head of the jungle of Nool." She has a sour disposition and a closed mind, insisting that "if you can't see something, it doesn't exist." Kangaroo's closed-in philosophy has potentially grave consequences for Horton, the Mayor, and all of Whoville.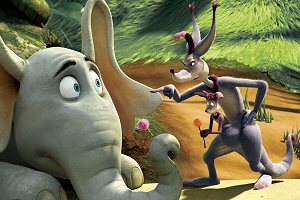 © Blue Sky Studios
But is she a villain? Martino isn't so sure. "She's an ideologue, not a villain," he posits. "She's misguided but not evil."
In one memorable scene, the Kangaroo, in full jungle-tyrant mode, delivers – actually, screams at the top of her lungs – a sermon about the impossibility of the existence of Who-ville. The sequence makes full use of the amazing vocal capabilities and comedic talents of the legendary Carol Burnett, who takes on the role, making it her own. (Burnett's legions of fans include Jim Carrey and many of the DR. SEUSS' HORTON HEARS A WHO! creative and production teams.) "Carol has pipes!" says Hayward of the actress, whose many memorable moments from her long-running television variety show included a "Tarzan yell" that provides a foreshadowing of her Kangaroo vocalizations. "She just lets it all hang out [delivering the sermon]," says Burnett. "There's something very liberating about screaming at the top of your lungs…and getting paid for it."
Returning to the subject of Kangaroo's alleged villainy, Burnett points out that "when playing a villain, you don't see the character as villainous. A villain doesn't think he or she is evil. They see the good – that they're righteous in their feelings and thoughts. And if everybody else would just listen to and agree with them, the world will be just wonderful.
"Kangaroo is very controlling and hard-nosed," Burnett admits. "She runs the jungle with an iron fist. She's kept her son Rudy in her pouch for, well, too long; she won't let him out of his 'room.'" (Some kids feel like their parents keep them prisoners; Rudy might have a legitimate complaint.) Kangaroo's chief henchman is Vlad Vlad-I-Koff, an enormous, black-bottomed eagle with tattered, oily feathers and a large jagged beak. He speaks with a thick Russian accent. Vlad is not an evil genius – he's just evil. "Vlad moves around like a lizard or a bat," says Jimmy Hayward. "Everything for him is based on instinct. The character is a great car accident of fun cultural influences. He's like a maroon velour-tracksuit wearing, gold-chained gangster."
Will Arnett ("Arrested Development"), who plays Vlad, says the character is "his own breed of bird – a dangerous guy…a gun for hire. He's pseudo-hip – woefully behind the times. But he thinks he's on top of the latest in pop culture.

© Blue Sky Studios
"I'm attracted to characters that are slightly cocky and also pretty dumb," Arnett continues. "That's a winning combination. Not for life, but for comedy. For life, it's a really sad combination. I love people who are super-cocky and yet totally unaware of what an idiot they are."
Vlad may not be the sharpest beak in the jungle, but he poses a threat to Horton and to Who-ville. Vlad can weave in and out of trees like an X-wing fighter – you can almost hear the jet engines – and in one thrilling sequence he chases Horton through the jungle. "We constructed the scene like a classic horror film," says Hayward. "It's certainly not bloody or played for terror. But it does present a balance of laughs and surprises."
The head of the Wickersham clan is Yummo, voiced by Tony®-winning actor Dan Fogler, who doubles his fun by also taking on the role of the Who-ville Council Chairman. Fogler enjoyed both roles but says Yummo is closer to his heart. "I'm from Brooklyn," he explains, "and Yummo IS Brooklyn, tough and street."
There is no shortage of adversaries for Horton. But he does have a best friend and confidante in Nool: Morton the Mouse, who tries to be a voice of reason to his oversized pal. "Well, you're talking to a clover; that doesn't look good," the savvy rodent advises Horton. Seth Rogen, one of the brightest of today's comedy actor/writers, brings his special cockeyed sensibility to the role. "Morton may be too susceptible to peer pressure," says the "Knocked Up" star and "Superbad" actor-writer. "He's somewhat neurotic and maybe not really his own guy."
Back in Who-ville, as the Mayor tries to convince the Whos of the dangers facing the city, the Mayor's wife and the level-headed mother to 97, is keeping things running smoothly at home. The seemingly effortless way in which the character handles a household bursting at the seams will amuse any parent; it certainly did Steve Martino. "I've got two kids and that's a challenge," he says. "Now, imagine dealing with 97!"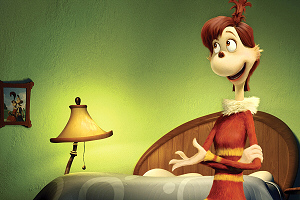 © Blue Sky Studios
"Saturday Night Live" mainstay Amy Poehler, the real-life wife to Vlad Vlad-IKoff himself – Will Arnett – makes the character an engaging character that calls her husband on his frantic behavior, but always doing so with understanding and a sense of humor. "Amy makes the character contemporary and real, but with a tongue-in-cheek bite," says Martino.
"I've played many kinds of crazy in my career," Poehler adds. "A lot of up-anddown characters. But Sally is very stable. She keeps her husband grounded in a very nice way. She has to because she's the real head of their giant family. She's her husband's sounding board. But she's a little worried about him; is he going crazy with his frantic running around with warnings of possible doom?"
Sally's doubts notwithstanding, there is indeed something amiss in Who-ville. To confirm his suspicions, the Mayor turns to Dr. Mary Lou LaRue, the wacky but brainy scientist from Who U. Dr. LaRue wears thick safety glasses, sports big purple hair and lacks basic social skills. Everything for her is about science. Isla Fisher, who moves effortlessly between broad comedies like "Wedding Crashers" and dramas like "The Lookout," notes that Mary Lou is the only Who (besides the Mayor) who "fully understands the ramifications of Who-ville's sudden climate changes [stemming from Horton's perilous journey through Nool]. She's the first to convert to the Mayor's beliefs about potential doom and gloom." Adds the diminutive star, who stands all of five-feet, two-inches: "The saying that 'a person's a person no matter how small,' has particular relevance to me."
From the brainy to the…not so much. Meet the Wickershams, a simian clan with an all-too-familiar human mob mentality. "They're essentially a band of funny guys," says Hayward. "They're not classical villains. But when things start getting tough for Horton, the Wickershams enjoy it. They live on the dark side of human nature."
Keeping it "Seuss": The Film's Look
Determined to stay true to the vision and magic of Dr. Seuss' environments and characters while translating his pen and ink style into a fully dimensional world, Jimmy Hayward and Steve Martino visited the Geisel Library at the University of California San Diego, which houses all of his original work. Searching for clues to Seussian design, the filmmakers studied the author's original art and read every manuscript, even his handwritten notes and annotations. Says Steve Martino: "I was particularly taken by some sculptures Seuss had done, which provided direction on how he would have translated his ideas and world into three dimensions. We found some subtle references to color, shape and texture that would incorporate into the film.
"Looking at the body of Dr. Seuss' work for inspiration, we began to get into a zone of Seussian exaggeration," Martino continues. "It became infectious, and we began to dial into Seuss' visual vocabulary. We would digitally brush the hair of a Who, for example, and ask, how can we do that Seuss-style? Being in his world stimulated our imaginations."
From the Seuss works he and Hayward painstakingly studied at the archives, Martino created a style guide that provided a foundation from which the filmmakers created a fully dimensional, textured and realistically lit world. "We could take a camera through the 3-D world we were building and explore it in great depth," notes Martino.

© Blue Sky Studios. Steve Martino
Seuss enjoyed surprising people with little details and off-kilter designs. The key to success in translating his work to the world of computer animation was making these details and designs fun and relatable. The filmmakers called their approach "Seussian logic" – a process that ensured every crazy gizmo and contraption was entertainingly correct.
Who-ville, an entire city resting on a speck that has landed on a clover, resembles in some ways our world's day-to-day existence: people go to school, they work and they shop. But a job in Who-ville might entail as Hayward points out, "laying on a couch all day eating bon-bons."
Modes of transportation in Who-ville mix fun with relatability. The city's multilayered streets are lined with sock-mobiles, roller-bladers on stilts, and unicyclists, to name only a few of the unusual ways the Whos get around. "If there's a way to get someplace, we wanted to make it the most interesting and fun way to go," says Martino. The aforementioned sock-mobile – a car that has four legs and walks…with socks – was a favorite of the filmmakers. It's the perfect vehicle for a hospital zone or a library, or any area where silence was golden. Another favorite was the bed-mobile. "It would save a lot of steps in the morning," says Hayward. "You could read a book on your way to work, or catch up on some sleep."
If a sock-mobile or bed-mobile sound too conventional for you, then you might want to try Jo-Jo's giant sling-shot device, which he uses to access an old observatory that figures prominently in the story. First, Jo-Jo sits down on a unicycle connected to the contraption, then he pedals back the unicycle, looking like he's about to launch himself into a wall, grabs and pulls back on a lever, firing himself straight up in the air, to a hanging stairway.
What about recreation, like a game of tennis? Here, too, imagination and fun rule the day. "Dr. Seuss never took a straight line from point A to point B, so we reasoned that the Whos wouldn't play on a 'normal' tennis court," says Hayward. "We thought, Why not elevate half the court in one spot, and have these crazy stairwells running between the two court-halves?"
Gravity isn't much of an issue in Who-ville, where narrow staircases with no railings spiral up into the sky, and where Whos routinely walk around on the sides of giant buildings. "There's no reason to get hurt in Who-ville," Hayward points out. "Getting hurt is no fun."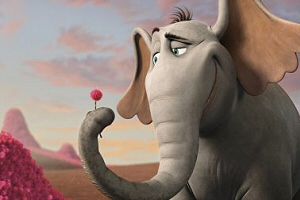 © Blue Sky Studios
Even when Hayward, Martino and their teams came up with original designs, they wanted audiences to feel like they were experiencing something from a Seussian world "We worked to find an authenticity that fit into people's memories of Seuss' book," explains Martino. Seuss' Whos, for example, were bug-like with round heads. To make the characters more expressive, the filmmakers re-imagined the characters, giving them more facial mobility and brow movement.
The filmmakers built upon the minimalist Nool conceived by Seuss, who in his book, says art director Thomas Cardone, "left huge white spaces for text and some artwork. So we really didn't start with a Seuss jungle because he didn't create one." The movie's Nool is like no jungle we've seen before, rich with enormous swirling fronds, billowing blue bushes and towering palm trees topped with hair-like tufts.
But even here, Seuss was an important inspiration. "We needed to create that white space, so to speak," explains Steve Martino. "We began by using Seuss' unusual jungle color palette – reds, blues and other odd colors, and fur plants" – a far cry from the lush, green you'd expect in a jungle. "Every leaf in Nool has a kind of Seuss flare, such as asymmetrical curves, and little patterns in the veining." Adds Cardone: "When you look at a Seuss tree, it will always be heavier on one side, and look different from all angles."
Fur is the new black:
Dressing and grooming the characters
In Who-ville, fur is more than a fine coat of hair covering the skin – it's a fashion statement. All the clothing in the tiny town is made of fur. The underlying geometry of a Who is what the Blue Sky fur team called a "peanut" – a naked Who under a suit, jacket, shirt, or dress of fur. The result is a very stylized fur look.
The fur-as-fashion notion comes straight from Dr. Seuss. "He had great renderings of fur in his books," says Hayward, who points to a personal favorite dating back to the director's childhood: "I remembered this one drawing in the book [Horton Hears a Who!] where there's a Who wearing a fur shirt. I became obsessed with that character, maybe because my name is Hayward and the guy's shirt has an 'H' on it," he adds, with a laugh.
"The Whos go to the barber and get themselves trimmed a new suit," Martino explains. And what's new in the Who-ville fashion scene? "Neck tufts are very big," he adds. "You'll see lots of high turtlenecks and big collars."
Everything from haute couture to functional garb is the product of a Who-ville barber – and Blue Sky Studios' innovative fur and grooming teams. The fur and other unique visuals are a product of Blue Sky's proprietary technology, the cornerstone of which is its ray tracing renderer, CGI Studio. The renderer, the fastest and most advanced of its type, allowed the filmmakers to manipulate the fur and environments, as if they were working with real lights on a real set, working with materials that behaved the way they do in the "real" world. It renders surfaces as if you could touch them.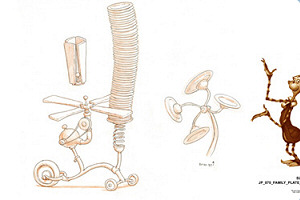 © Blue Sky Studios
The renderer made possible the film's huge crowd and mob scenes, featuring thousand of furry characters. But it was much more than fur and fashion for the film's innovative R&D team, which also created a field of one-half-billion clovers for a pivotal scene. Vlad, after snatching the clover, on which rests the speck/Who-ville, out of Horton's trunk, drops the precious flower into a field of about five hundred million – onehalf-billion—clovers stretching as far as the eye can see. One by one, Horton examines the clovers, carving his way through the immense field. It's the ultimate "needle-in-ahaystack" scenario.
It's a key moment in Seuss' book, and a seminal one for Jimmy Hayward. "I thought it was incredible when Horton [in the book] ran up and screams, 'NO!!!', as the speck/clover floated down in the sea of clovers," he relates. Hayward, like millions of other readers, couldn't wait to turn the page and discover what came next – a memory he kept in mind as the scene was put together. As Horton realizes what's happened, "we swing the camera all the way around him to reveal the massive clover field, from left to right, just like you're turning a page," Hayward explains. "It seemed like the right way to reveal this image."
The Blue Sky R&D team also built into the renderer a proprietary algorithm that allowed the filmmakers to depict the wind blowing across the top of the clover field, just as wind would ripple across a Kansas wheat field. (Martino, a Midwesterner, has a particular fondness for this effect.)
The "hero" clover – the one housing Who-ville – was made up of a million hairs. For the clover field scene, the clovers closest to the camera had the full hair count or close to it; the "extra" or "supporting" closers averaged 50,000 hairs.
Squash and stretch...cause and effect:
Horton crosses a bridge – As the Mayor visits the dentist
Endeavoring to fully capture the wondrous and wildly imaginative worlds of Dr. Seuss, the filmmakers push the animation and rigging beyond the traditional boundaries of animation physics and character performance and believability.
They employ "squash-and-stretch" techniques to push Horton and the Mayor to extreme looks and movements. In traditional 2-D animation, squash-and-stretch gives characters elasticity and movement. But Hayward, Martino and the Blue Sky artists, animators and technicians take the technique to a new level.
Perhaps no scene better demonstrates the effectiveness of their squash-and-stretch techniques than when Horton – clover in tow – attempts to cross a long, rickety bamboo bridge overhanging on a deep gorge. At the same time, the Mayor is visiting the dentist, who is about to use a giant hypodermic needle on the Mayor. Hayward and Martino intercut the two hyper-precarious situations, creating an intricately constructed scene of cause-and-effect. Every Horton action (or stumble) has an equal (or equally crazy) reaction on the Mayor.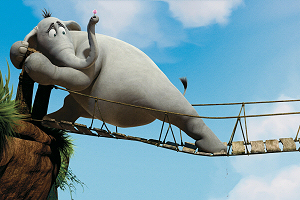 © Blue Sky Studios
In the sequence, the filmmakers employ squash-and-stretch to inflate Horton's trunk – the ten-thousand-pound elephant (and eternal optimist), thinking air to be "lighter" than anything, believes he can float across the bridge like a dirigible. Needless to say, Horton's expectations aren't quite fulfilled. As Horton, inflated trunk and all, continues to stumble, leaving broken pieces of the bridge behind every step, the dentist's hypodermic ends up in the Mayor's arm instead of his mouth. The filmmakers again seize the opportunity to push the animation, stretching the mayor's injected arm 30-feetlong. As the Mayor flees the office, his newly-elongated and flaccid limb accidentally smacks a few people across the face.
Hayward credits Jim Carrey with coming up with the idea for the situation: "Jim asked, 'If an elephant was carrying your world around on a speck, where would be the worst place for the Mayor to be?'" remembers Hayward. "After suggesting something to do with power tools, Jim asked, 'What if the Mayor was at the dentist – who's wielding a hypodermic?'"
The animators also used squash-and-stretch for a "smear" effect, where, for example, a character's legs move so quickly, they begin to smear – and look like they're doubling or tripling in number.
"The elephant is listening":
Sound and music come together in Dr. Seuss' Horton Hears a Who!
With the word "Hears" figuring so prominently in the title and storyline, it will come as no surprise that sound design and score were two of the film's most critical elements. "The film's central conceit is that the two main characters never meet – they can only hear one another," Hayward elaborates. "Each has to believe what they're hearing. And if that's not the basis for a wonderful sound design, I don't know what is."
The film's intricate and at times majestic marriage of sound design and music stems from the talents of two-time Oscar® winning sound designer Randy Thom ("The Incredibles," "The Right Stuff"), who has also worked on films ranging from "Raiders of the Lost Ark" to "Ratatouille"; and composer John Powell, whose credits include "Shrek," "Happy Feet," "Ice Age: The Meltdown" – and the three "Bourne" films.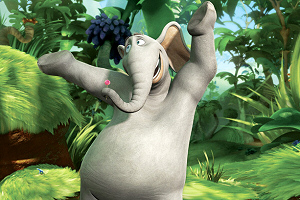 © Blue Sky Studios
Thom and Powell began collaborating unusually early in the process. "John and I brainstormed with the directors over a year before the movie's release," says Thom. "We all understand the film was going to be a real playground for sound. It's a rare treat to share sounds with a composer, and we worked to integrate the two areas as much as possible."
Thom endeavored to open the audiences' ears to different perceptions of sounds – suspending disbelief that a microscopic man and a five-ton elephant could actually hear one another. The first contact between Horton and the Mayor involves complex sound transitions: As the speck flies through the air, we see the adrift Whos yelling (or, more accurately, "yelping") for help. The filmmakers cut back and forth between the pointsof- view of Horton – whose over-sized ears pick up the "microscopic" sounds of tiny voices coming from the speck – and of the airborne Who-ville, where we hear the Whos full-bodied cries of surprise.
Looking to make contact with whoever is behind the tiny sounds, Horton bellows, "HELLO!" to the speck. We follow the sound wave as it travels down to the speck like a spaceship flying towards Earth. It hits the clover, passes through a blanket of clouds, and then disappears into a giant funnel, traveling through a maze of ducts – until it emerges from a drainpipe outside the Mayor's office.
As the voice makes its journey through the atmosphere, Thom modulates it in various ways, such as altering its pitch and creating what he calls a "warbling sound" – all to complement the sound-wave visual. For its journey down the drainpipe, Thom adds a bunch of "clinks" and "clanks" and other metal-stretching sounds that accompany the continuing "Hello" sound.

© Blue Sky Studios
It's a fun moment for the audience – and an astounding one for Horton. "We're in the middle of some kind of amazing cosmic convergence!" Horton exclaims to the Mayor. "Two vastly different worlds miraculously crossing paths! Mine colossal, and yours miniscule, yet somehow we've managed to make contact!"
Sound takes center stage for the film's epic climax, in which every Who comes together, using whatever they can to make noise to make themselves heard – and save themselves from certain doom. In unison, they shout, "WE ARE HERE! WE ARE HERE!" Help comes from an unexpected source: the Mayor's son Jo-Jo, who contributes his Symphoniphone – a wondrous musical instrument he's rigged from non-musical objects – to the multi-layered, city-wide symphony.
As the filmmakers put these finishing touches on the film, Audrey Geisel, wife of the late creator of these magical worlds, pondered what her husband would think of Horton Hears a Who! becoming a major CG animated motion picture. "He would probably be saying," she shares, "that 'Horton was so large and had such a big heart, the movie had to happen this way.'"
« Previous
|
1
|
2
|
3
|
4
|
5
|
Next »