Horton Hears a Who!
Page 2 of 5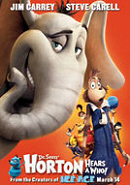 What's it about
A new CG animated feature film from 20th Century Fox Animation, the makers of the "Ice Age" films, based on the beloved book, first published in 1954, by Ted Geisel, who wrote under the pen name Dr. Seuss. Seuss books are among the defining works of family literature, hove sold over 200 million copies, and have been translated into fifteen languages. The "Horton" series "Horton Hears a Who," "Horton Hatches the Egg") are consistently among the topselling of all Seuss titles - generation after generation.
"Horton Hears a Who" is about an imagineative elephant who hears a cry for help coming from a tiny speck of dust floating through the air. Suspecting there may be life on that speck and despite a surrounding community which thinks he has lost his mind, Horton is determined to help.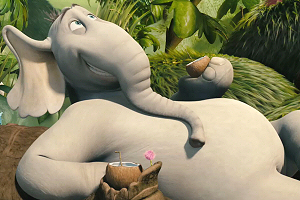 Horton (Jim Carrey) - Picture © 20th Century Fox
Credits
Production Companies
20th Century Fox Animation
Blue Sky Studios
Distributor
Twentieth Century-Fox Film Corporation
Directors
Jimmy Hayward
Steve Martino
Writers
Ken Daurio
Cinco Paul
Dr. Seuss (book)
Producers
Bob Gordon
Bruce Anderson
Executive Producers
Audrey Geisel
Christopher Meledandri
Chris Wedge
Composer
John Powell
Art Director
Thomas Cardone
Editor
Tim Nordquist
Cast List
Jim Carrey
Steve Carell
Carol Burnett
Will Arnett
Seth Rogen
Dan Fogler
Isla Fisher
Jonah Hill
Amy Poehler
Jaime Pressly
Charles Osgood
Josh Flitter
Niecy Nash
Jesse McCartney
Shelby Adamowsky
Jack Angel
Caitlin Rose Anderson
Emily Anderson
Jan Rabson
John Cygan
Jess Harnell
Debi Derryberry
Samantha Raye Droke
Karen Disher
Marshall Efron
Bill Farmer
Jason Fricchione
Heather Goldenhersh
Selena Gomez
James Hayward
Joey King
Christina Martino
Ellie Martino
Laraine Newman
Tim Nordquist
Colleen O'Shaughnessey
Laura Ortiz
Joe Pasquale
Isabella Acres
Mona Marshall
Connor Anderson
Mickie McGowan
Jack Angel
Laraine Newman
Bob Bergen
Colleen O'Shaughnessey
John Cygan
Madison Pettis
Madison Davenport
Jan Rabson
Debi Derryberry
Grace Rolek
Bill Farmer
Jennessa Rose
Teresa Ganzel
Ariel Winter
Jess Harnell
Shelby Adamowsky
Sherry Lynn
Elena Martino
Danny Mann
Heather Goldenhersh
Jan Rabson
..... Horton
..... Mayor
..... Kangaroo
..... Vlad
..... Morton
..... Councilman/Yummo Wickersham
..... Dr. Mary Lou Larue
..... Tommy
..... Sally O'Malley
..... Mrs. Quilligan
..... Narrator
..... Rudy
..... Miss Yelp
..... JoJo
..... Hedy/Hooly
..... Old Time Who
..... Helen
..... Heather
..... Town Cryer
..... Who
..... Another Who
..... Who Mom
..... Hildy/Holly
..... Who Kid
..... Wickersham Guard 1
..... Willie Bear
..... Joe
..... Who Girl
..... Helga
..... Obnoxious Who
..... Katie
..... Heidi/Haley
..... Hanna
..... Glummox Mom
..... Wickersham Guard 2
..... Angela
..... Jessica
..... The Dentist
..... -
..... -
..... -
..... -
..... -
..... -
..... -
..... -
..... -
..... -
..... -
..... -
..... -
..... -
..... -
..... -
..... -
..... -
..... -
..... -
..... -
..... -
..... -
..... -
..... -

Movie Quotes
| | |
| --- | --- |
| Horton: | Just me and the speck, shootin' the breeze. We're a club. We're a group. We can be a secret society. And no one else can join, unless they wear funny hats. |
| Horton: | I meant what I said, and I said what I meant. |
| Morton: | An elephant's an elephant one hundred percent. |
| Horton: | That's my code, my motto. |
| Horton: | Don't worry citizens of whoville! I'm light, as a feather. |
| Horton: | There are people on this speck. They have a mayor who has 96 daughters and one son named Jojo, who all share a bathroom! Whatever that is... |
| Horton: | We must become invisible, travel silently, for there are forces that would seek to destroy us. |
| Horton: | This entire jungle is a house of death! |
| Horton: | This looks kinda - precarious! Well nothing to worry, obviously when they build a bridge like this they take into account that elephants will be crossing here... |
| The Mayor: | Hey hon, did you ever get the feeling that you were being watched, and that maybe that thing watching you is... ehhh, a giant elephant? |
| Sally O'Malley: | Um, you know, I'm going to have to say - no! Do you know that feeling? |
| The Mayor: | [laughs nervously] Noo! |
Taglines
One Elephant One World One Story.
The Next Big Comedy Event.
Who-mongous!
« Previous
|
1
|
2
|
3
|
4
|
5
|
Next »