Sonic the Hedgehog
Page 2 of 5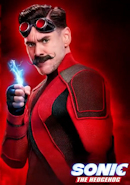 What's it about
The film will look to capture Sonic's irreverent tone and spirit, reuniting him with some of the most revered and infamous characters of the franchise, including the evil Dr. Eggman. Playful, mischievous, and quick on his feet in more ways than one, the world's fastest hedgehog is known for his ability to move at supersonic speed to protect his friends from their enemies. For more than two decades, Sonic has been one of the world's biggest gaming icons and a $1 billion franchise with more than 140 million games sold.

Sonic the Hedgehog is going to blend live-action and CGI and will be directed by Jeff Fowler.

Sonic must stop Dr. Eggman from completing his plans for world domination is basically the gist of this one.
Credits
Production Companies
Original Film
Blur Studio
Marza Animation Planet
Paramount Pictures
Sega of America
Distributor
Paramount Pictures
Director
Jeff Fowler
Writers
Patrick Casey
Josh Miller
Producers
Neal Moritz
Mie Onishi
Tim Miller
Executive Producers
Toby Ascher
Jeff Fowler
Tim Miller
Composer
Art Director
Grant Van Der Slagt
Editor
Stephen F. Windon
Cast List
Jim Carrey
James Marsden
Tika Sumpter
..... Dr. Robotnik
.....
.....

Movie Quotes
Coming soon...
« Previous
|
1
|
2
|
3
|
4
|
5
|
Next »