In Living Color (TV)
Page 2 of 6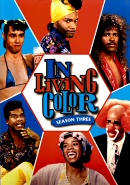 What's it about
In Living Color is an American Emmy-nominated sketch comedy show, which originally ran on the Fox Network. Keenen Ivory Wayans created, produced, and starred in the show that strove to produce comedy with a strong emphasis on Black subject matter.
Its groundbreaking sketch comedy helped launch the career of male comedians and actors Jim Carrey (one of only two white members of the original cast, then credited as "James Carrey"), Jamie Foxx (a future Academy Award winner who joined the cast in the third season) and David Alan Grier (an established character actor who had worked in Keenen Ivory Wayans' 1988 motion picture I'm Gonna Git You Sucka). Its Fly Girl dance troupe helped launch careers of future actress/singer Jennifer Lopez (who joined the show in its third season), choreographer Laurie Ann Gibson, choreographer Carrie Ann Inaba (who was a Fly Girl from 1990 to 1992), and future Academy Award Nominee Rosie Perez (the show's choreographer 1990 to 1992).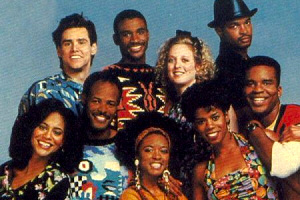 Some of the most memorable sketches include "Homey the Clown" (Damon Wayans), "Fire Marshal Bill" (Jim Carrey), "Men on ___" (Damon Wayans and David Alan Grier), "Anton" (Damon Wayans), the Homeboy skits (Keenen Ivory Wayans and Damon Wayans), "Hey Mon" (Damon Wayans, Tommy Davidson, T'Keyah "Crystal" Keymah, and Kim Coles), "Benita Butrell" (Kim Wayans), "Vera DeMilo" (Jim Carrey), and the many various parodied music videos from the likes of Vanilla Ice, M.C. Hammer, Michael Jackson, and Crystal Waters. Here are descriptions of some of Jim Carrey's sketches:
Background Guy
(Jim Carrey) plays a guy who does wacky funny stuff while news anchors are doing serious news commentaries. In one episode he was a football player doing goofy antics while sports anchors are doing the halftime report during the Super Bowl, in another that featured the White House Press Secretary, he was a man who was doing even more bizarre things such as joining in a kickline of can-can dancers or recreating George Washington crossing the Delaware River.
Fire Marshal Bill
(Jim Carrey) portrayed a fire marshal with a manic grin and scarred face whose safety advisories usually include demonstrating (on himself) the very disaster he's warning against. Usually, the warnings are against ridiculous situations that would never come to par. Catchphrases included "Lemme show ya something!!" and "It's very da-da-deadly."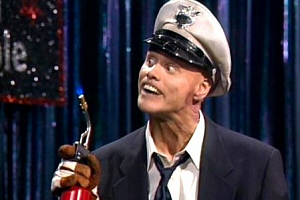 Vera de Milo
(Jim Carrey) portrays a steroid-abusing female bodybuilder with a conspicuously flat chest and bulge in her posing trunks. Vera was best known by her unnaturally deep, breathy voice and grotesque, horselike laugh, along with a small set of pigtails. Vera de Milo often appeared in movie parodies of then-current films like Pretty Woman and The Hand that Rocks the Cradle.
Music Video Parodies
. One memorable parody was "White, White Baby", based on Vanilla Ice's hit song "Ice Ice Baby." In the sketch, Jim Carrey impersonates Vanilla Ice, singing while wearing a jacket on his back that read, "My Grandma Gave Me This Dumb Jacket" which he showed off to the audience at the end of his performance (after all backup dancers leave when he does stupid dance moves).
Bob Jackson, Karate Instructor
(Jim Carrey) plays a karate instructor, who claims to be a former world champion, teaching a self-defense class for women. He proceeds to get stabbed twice accidentally by Kelly Coffield while attempting to show how to defend against a knife attack, and is eventually unmasked as a fake by the other students in the class.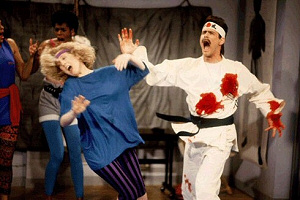 Lassie '90
A mother (Kelly Coffield) and her son (Jim Carrey) own a pit bull. When they get into trouble they ask their faithful companion to get them something needed to extricate themselves from the situation. The dog soon returns with the desired item, albeit still held by the severed arm of the original owner.
Love Connection
(Jim Carrey) portrays host Chuck Woolery, Kim Coles portrays Robin Givens, and Keenen Ivory Wayans portrays Mike Tyson in a parody of the television series of the same name. This is the very first aired sketch.
Star Trek
(Jim Carrey) impersonates Captain Kirk with grossly exaggerated mannerisms, with David Alan Grier playing Mr. Spock. The Wrath of Farrakhan has Minister Louis Farrakhan (Damon Wayans) board the Enterprise and convince the minority and alien crew members to mutiny, only to find themselves now under the oppressive leadership of Farrakhan.
Credits
Production Companies
20th Century Fox Television
Ivory Way Productions
Distributor
20th Century Fox Television
Directors
Paul Miller
Terri McCoy
Keenen Ivory Wayans
Matt Wickline
Writers
Keenen Ivory Wayans (79 episodes)
Fax Bahr (76 episodes)
Adam Small (76 episodes)
Matt Wickline (66 episodes)
Damon Wayans (65 episodes)
Larry Wilmore (50 episodes)
Becky Hartman-Edwards (38 episodes)
Buddy Sheffield (38 episodes)
John Bowman (27 episodes)
Marc Wilmore (27 episodes)
Fred Graver (27 episodes)
Kim Wayans (27 episodes)
Steve Tompkins (26 episodes)
Jamie Foxx (23 episodes)
Robert Schimmel (23 episodes)
Marlon Wayans (23 episodes)
Shawn Wayans (23 episodes)
Tommy Davidson (23 episodes)
Colin Quinn (23 episodes)
Chris Rock (23 episodes)
T. Sean Shannon (23 episodes)
Nick Bakay (21 episodes)
Mark Brazill (21 episodes)
Greg Fields (23 episodes)
Wayne Kline (3 episodes)
Jim Carrey (unknown)
Producers
Kevin Berg
Robert Jason
Associate producers
Coral Hawthorne
Christie Stentz
Co-producer
Michael Petok
Executive producers
Keenen Ivory Wayans
Greg Fields
Composer
Tom Rizzo
Cinematographer
-
Editors
Michael Polito
Kris Trexler
Cast List
Keenen Ivory Wayans
Jim Carrey
Kelly Coffield
Kim Coles
Tommy Davidson
David Alan Grier
T'Keyah Keymáh
Damon Wayans
Kim Wayans
Shawn Wayans
Steve Park
Jamie Foxx
Marlon Wayans
Alexandra Wentworth
Anne-Marie Johnson
Jay Leggett
Reggie McFadden
Carol Rosenthal
Marc Wilmore
Deidre Lang
Michelle Whitney-Morrison
Cari French
Carrie Ann Inaba
Lisa Marie Todd
Carla Garrido
Jennifer Lopez
Jossie Thacker
Lisa Joann Thompson
Laurie Ann Gibson
Masako Willis
Leroy "Twist" Casey
..... Various (Season 1-4)
..... Various
..... Various (Season 1-3)
..... Various (Season 1)
..... Various
..... Various
..... Various
..... Various (Season 1-3)
..... Various (Season 1-4)
..... Various (Season 1-4)
..... Various (Season 3)
..... Various (Season 3-5)
..... Various (Season 4)
..... Various (Season 4-5)
..... Various (Season 5)
..... Various (Season 5)
..... Various (Season 5)
..... Various (Season 5)
..... Various (Season 5)
..... Fly Girl
..... Fly Girl (Season 1-2)
..... Fly Girl (Season 1-3)
..... Fly Girl (Season 1-3)
..... Fly Girl (Season 1-3)
..... Fly Girl (Season 2)
..... Fly Girl (Season 3-4)
..... Fly Girl (Season 4-5)
..... Fly Girl (Season 4-5)
..... Fly Girl (Season 5)
..... Fly Girl (Season 5)
..... DJ (Season 3-5)
Movie Quotes
| | |
| --- | --- |
| Fire Marshal Bill: | Lemme show you somethin. |
| Fire Marshal Bill: | Fear not young lovers, I am Fire Marshall Bill Burns and I notice your (?) is getting a little warm south of the navel there, son. |
| Fire Marshal Bill: | Keep your rocket in your pocket Mr. Spaceman, you're not getting out of here, until you learn the meaning of safe sex. |
| Fire Marshal Bill: | I seem to be losing my battle with gingivitis. |
| Fire Marshal Bill: | Now, lets say your wife decides it's time to get this party started... suddenly the freak inside her is unleashed, she's possessed by the spirit of Carmen Miranda... |
| Fire Marshal Bill: | This could be dangerous! |
| Vera de Milo: | I'm on steriods, so when I get cramps. LOOK OUT! |
| Vera de Milo: | No pain, no gain! |
| Vera de Milo: | What's a girl to do! |
« Previous
|
1
|
2
|
3
|
4
|
5
|
6
|
Next »