Eternal Sunshine of the Spotless Mind
Page 2 of 5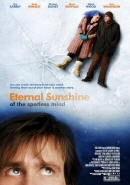 What's it about
Joel Barish (Jim Carrey) meets Clementine Kruczynski (Kate Winslet) on the train and feelings begin to open. They do not know that they were lovers in the past. Using a new medical technique they have erased the memories of each other. However, along his erasing process, Joel becomes astonished when he finds that he still loves Clementine and he does not want to lose her, fighting for keeping the memories of their moments together instead.
DVD Review
By Heather Wadowski Turk
September 27, 2004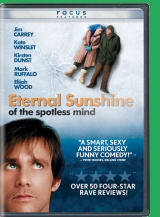 DVD Cover © Eternal Sunshine
of the Spotless Mind: Universal
Home Video
After being ignored by the academy for "The Truman Show," "Man on the Moon" and even "The Majestic," Charlie Kaufman's "Eternal Sunshine of the Spotless Mind" could very well be the film that earns Jim Carrey that long overdue Oscar nomination. However, similar to 2004 nominees Bill Murray and Johnny Depp, the chance at the gold would be more of a "sorry we ignored you in the past" gesture than anything else, since Carrey's role as a hurt, lovestruck loser isn't any bit more memorable than Truman Burbank or Andy Kaufman. Nevertheless, Universal is hoping that their end-of-the-year DVD release for "Eternal Sunshine" reminds Academy voters of Carrey's stellar performance and, for whatever the reason, "Eternal" finally brings Carrey home the gold.
In "Eternal Sunshine of the Spotless Mind," Carrey plays Joel Barish, a shy and gangly loner who is crushed to find out that his girlfriend Clementine (Kate Winslet) has literally erased him from her memory. Rather than forgive and forget, Joel decides simply to forget and undergoes the procedure himself. About halfway through the procedure though, Joel realizes that in order to forget the pain, he must forget the good times as well, and changes his mind about having his memory erased. Unfortunately, he's unconscious and already midway through the procedure when he comes to this realization, so he can't simply call the whole thing off. Instead, in a desperate attempt to never forget the love the two once shared, Joel races off with Clementine and takes her to the far corners of his mind in order to try to save whatever memories of their failed relationship he can before it's all gone for good.
Charlie Kaufman's screenplay is a weird, twisted love story that starts at the end rather than the beginning. While audiences think that they are being introduced to the two lovebirds when they first meet, as the story unfolds we learn that these two already have a history with one another -- they just don't remember it. Viewers are then taken back in time to when Joel decides to have his memory erased, where their true story unfolds memory by memory, fight by fight, kiss by kiss. In the end, viewers realize that the old saying "every dark cloud has its silver lining" is true, and that nothing -- not even having your memory erased -- can keep true love apart.
Carrey shines in the dark love story, though his acting range isn't nearly as great as what fans have seen in "Man on the Moon" or "The Truman Show." In fact, Carrey plays second fiddle to Kate Winslet's flawless performance, and for once it's someone else who steals the show in a Jim Carrey movie. Winslet is perfect as the spontaneous, neurotic, neon-colored hair motormouth, and although Clementine and Joel are as different as night and day, viewers will understand the unique connection they have thanks to Winslet and Carrey's powerful performances, and why that connection's so powerful that even a medical procedure can't keep the two apart.
Winslet and Carrey are supported by a fabulous cast as well, though some of the film's subplots are a bit underdeveloped. One subplot in particular, where Elijah Wood's character (the tech nerd/medical assistant Patrick) uses Joel's memory procedure for his own personal gain to go out with Clementine, is particularly a complete waste of time, as viewers would much rather see more intimate memories of Clementine and Joel than Patrick hitting on Clementine. However, the subplot between Tom Wilkinson (who plays the doctor who's perfected the memory erasure procedure) and Kirsten Dunst (who plays his assistant) helps tie Clementine and Joel's story together quite nicely, and really showcases the whole "love is blind" theory we've all been brought up on.
As captivating as the story is though, moviegoers brought up on Carrey's more polished films like "Batman Forever" and "Liar Liar" might find the roughness of "Eternal Sunshine" hard to get used to. The sleekness of Carrey's other big budgeted films is replaced with a gritty, handheld cam feel, and the pacing of "Eternal" makes "The Majestic" feel rushed. Still, for those who truly appreciate Carrey for his talents and are with him for the long haul, "Eternal Sunshine of the Spotless Mind" could be Carrey's most unique gem yet.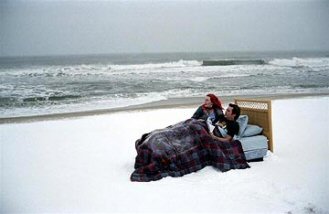 After being ignored by the academy for "The Truman Show," "Man on
the Moon" and even "The Majestic," Charlie Kaufman's "Eternal
Sunshine of the Spotless Mind" could very well be the film that earns
Jim Carrey that long overdue Oscar nomination.
For a film as original as "Eternal Sunshine of the Spotless Mind," however, its DVD's bonus features offer nothing outside of the run-of-the-mill materials viewers have grown accustomed to finding on a DVD. There's the feature commentary, which is slightly hard to follow because of director Michel Gondry's thick accent, a generic behind-the-scenes look at the making of "Eternal Sunshine" and the Polyphonic Spree's "Light & Day" music video, which plays more like a sketch from "Late Night with Conan O'Brien" than the abstract visual masterpiece it could have been (especially with the release Alanis Morissette's "Eight Easy Steps" video, which uses the same idea of imposing someone else's mouth onto people to sing the song, to much more believable results). And while the Lacuna Infomercial is slightly entertaining, it's so brief that the comic aspect of the infomercial gets lost and instead viewers are left with the scary feeling that this could be a reality in the not-too-distant future.
The only two special features worthy of the film this DVD is attached to are the deleted scenes and the conversation between Jim Carrey and Michel Gondry. The deleted scenes, though brief, offer two scenes in particular that probably never should have been cut -- one where viewers get to see Joel call Naomi to break it off before calling Clementine for the "first time" and another flashback scene of Clementine and Joel's first date to the theater. This scene in particular offers a very heartfelt moment, where the couple's original conversation about whether or not Joel is sure he wants to forget Naomi for good changes to their current situation, and whether or not Joel's prepared to have Clementine erased from his memory. Unfortunately, the deleted scenes feature offers no optional commentary by Gondry to find out why these two scenes in particular were cut, so viewers are left to wonder why these poignant and important scenes ended up on the cutting room floor.
The other special feature worth checking out is the conversation between Carrey and Gondry, where both share their own favorite stories involved with the making of "Eternal Sunshine." This feature both shows some of the in-camera special effects that occurred during the making of the film, as well as some personal behind-the-scenes footage of Carrey and the crew. Some of these behind-the-scenes moments are quite funny -- like the footage of Carrey driving a bed around a nearby gas station's parking lot during the middle of the night -- while others shed light on the internal struggles Carrey faced when he brought his own life stories into the making of the film. One very personal scene even features Carrey -- not in character -- breaking down and throwing a prop across the room while Winslet comforts him. Doubters of Carrey's natural talents need to look no further than this particular scene to see how seriously he takes his work, and how far he's come from simply talking out of his ass for laughs.
A film unlike anything he's ever done before, "Eternal Sunshine of the Spotless Mind" is a movie for Jim Carrey's real fans -- a movie that lets Carrey shine, but lets its other stars, the script and its direction shine even brighter. A movie that shouldn't be forgotten come Oscar time, one can only hope that this DVD will finally show Academy voters the light.
Click to
comment this article
.
Credits
Production Companies
Blue Ruin
Anonymous Content
Focus Features
This Is That Productions
Distributors
Focus Features (theatrical)
Universal Home Video (VHS/DVD)
Director
Michel Gondry
Writer
Charlie Kaufman
Producers
Michel Gondry
Steve Golin
Executive Producers
Georges Bermann
David L. Bushell
Charlie Kaufman
Glenn Williamson
Associate Producers
Linda Fields
Michael Jackman
Composer
Jon Brion
Cinematographer
Ellen Kuras
Editor
Valdís Óskarsdóttir
Cast List
Jim Carrey
Kate Winslet
Gerry Robert Byrne
Elijah Wood
Thomas Jay Ryan
Mark Ruffalo
Jane Adams
David Cross
Kirsten Dunst
Tom Wilkinson
Ryan Whitney
Debbon Ayer
Amir Ali Said
Brian Price
Paul Litowsky
Josh Flitter
Lola Daehler
Deirdre O'Connell
..... Joel Barish
..... Clementine Kruczynski
..... Train Conductor
..... Patrick
..... Frank
..... Stan
..... Carrie
..... Rob
..... Mary
..... Dr. Howard Mierzwiak
..... Young Joel
..... Joel's Mother
..... Young Bully
..... Young Bully
..... Young Bully
..... Young Bully
..... Young Clementine
..... Hollis
Movie Quotes
| | |
| --- | --- |
| Joel Barish: | Constantly talking isn't necessarily communicating. |
| Joel Barish: | Sand is overrated. It's just tiny, little rocks. |
| Joel Barish: | Are we like couples you see in restaurants? Are we the dining dead? |
| Joel Barish: | Look at it out here, it's all falling apart. I'm erasing you and I'm happy! |
| Joel Barish: | By morning, you'll be gone. |
| Joel Barish: | Is there any risk of brain damage? |
| Dr. Howard Mierzwiak: | Well, technically speaking, the operation is brain damage, but on a par with a night of heavy drinking. Nothing you'll miss. |
| Clementine Kruczynski: | You know me, I'm impulsive. |
| Joel Barish: | That's what I love about you. |
| Joel Barish: | Valentine's Day is a day invented by greeting card companies to make people feel like crap. |
| Joel Barish: | Can you hear me? I don't want this any more! I want to call it off! |
| Joel Barish: | Wait. |
| Clementine Kruczynski: | Why? |
| Joel Barish: | I don't know. Just wait... for a while. |
Taglines
I'm fine without you.
Do I know you?
Would you erase me?
I already forget how I used to feel about you.
Our memories makes us who we are. You can't change the past.
This Spring, clear your mind
You can erase someone from your mind. Getting them out of your heart is another story.
Replace My Memory.
A comedy for anyone with a past they'd rather forget.
« Previous
|
1
|
2
|
3
|
4
|
5
|
Next »