NEWS
Jim Carrey At The Howard Stern Show
14 Jun 2017
By Eva Araújo
(Web correspondent)
One of the things that makes you feel excited as a fan is a good interview. Yesterday, Jim Carrey had a phone appearance at the Howard Stern Show, to promote the show "
I'm Dying Up Here
" and to talk about his early career as a stand-up comedian, the present of comedians and life and the future.
Right at the start Jim was asked about his beard: "It left me," Jim said.
"Oh, you shaved it?" Howard asked.
"Yeah, I did" Jim confirmed, saying all that was left was a big ball of fuzz.
Howard gave him the idea of using the hairs to do a painting brush: "What if you made like a paint brush out of your beard hair or incorporated your beard hair into your painting?"
"My brush is gone. Now I'm this freaky, no chin dude," Jim joked.
We already knew that Jim paints and loves it but we also found out that Howard Stern does it too and then they share info about each other's art.
Talking about the show and stand-up comedy for those who are starting up, Jim told Howard his first time experiencing in Toronto at Yuk Yuk's Comedy Club, when he was just 15 years old.
"My mother dressed me in a polyester suit because that's how they dressed on the Dean Martin roasts. They basically just harangued me off," Jim told Howard.
"I didn't come back for two years. This is my M.O., man. I go in thinking I'm going to do it, I fail, I hide for two years, I get strong, I do a 'Rocky' thing, and then I come back and slay it," he explained. Jim knew impression wouldn't take as far as he wanted so he stopped doing them and started it all over again.
"I quit for two years. This is my pattern-I quit for two years," Jim said.
Jim also told Howard about the first time he auditioned at the famed Comedy Store in Los Angeles on the same night that then up-and-coming Bill Maher was trying out in front of the club's owner Mitzi Shore.
"He had his shit together," Jim said of Maher. "I went up on stage and the mic fell apart in my hand. I knew I was screwed right out of the gate. I walked away without even knowing if I got a spot."
Yet again, Jim went away for two years to think about what to do and change to come back stronger and finally he found it what it was he needed to do: "I woke up in the middle of the night and shot up in bed and thought, 'They need to be free from concern. It was, like, a clarifying moment."
Jim's realization would lead to him coining a phrase that he's still known for to this day.
"I went up on stage at the Comedy Store and the first thing I did was, 'Good evening ladies and gentlemen. And how're you today? Alrighty then!'" Jim remembered. "I began to play the guy who was free from concern." Howard Stern also mention the drug scene back then and that many comedians would lost themselves in it. But Jim never really did hardcore drugs.
"I only went up [on stage] maybe twice … after smoking a joint. I slaughtered. I mean, I slaughtered the house," Jim recalled.
Sam Kinison was one the comedian that Jim was very close to and Jim remembered what he felt when he first watch Sam Kinison perform: "I literally was dumbfounded," Jim said of Sam's act. "Just tears pouring down my face, out of control, laughing like a hysterical lunatic and he came off stage and I just said, 'You're it, man.'" Their friendship nearly turned into a professional partnership at one point. "We were gonna go on the road and do ten shows before I became famous," Jim said.
Evangelical tent revivals were how Kinison once legitimately made his living, but he and Jim were planning on parodying those movements for audiences.
"He was gonna teach me how to preach. He was going to call me 'Lightning Boy,'" Jim said with a laugh.
Howard also asked him about Kathy Griffin joke about the President and the blowout she took and Jim could relate to it since a few years back he got the same regarding Fox News.
"It's just crazy, people ignoring their instincts about character."
Jim continue this time talking more directly about Griffin: "It was in pretty poor taste, you know, it didn't make me laugh it was definitely out of fury but, you know, the fury starts in the White House, you know, that animosity started from within his campaign and his world and he's now getting the reflection back, you know, so it's let's just talk about where it started and the fact is, if you look at, you know, Trump care an oxymoron and the end the budget which is absolute vampirism, you know, it's like this people are actually going to die from that it's not just holding up a bloody fake head, a prop, these are people who are going to lose everything. It's not the joke it's the source of the joke. It's the subject of the joke that's the problem."
As Jim's career became more successful he finally got a chance to audition for SNL who didn't went well as Jim as mention many times, because of an NBC page who was about to jump of the building. "That's all I could think about through the whole audition," Jim said.
"That was probably me. I was working there back then," Howard joked. Jim didn't get to be in SNL as a cast member but has been the host for the show three times and as done some of the most know and dear comedies for many generations. Now. Jim says he can wait for the "beautiful stuff" to find him and hinted that he'll soon be back on the silver screen. He also acknowledges how TV has gotten pretty good and he may do it again if the opportunity presents. That may include the TV show "I'm Dying Up Here".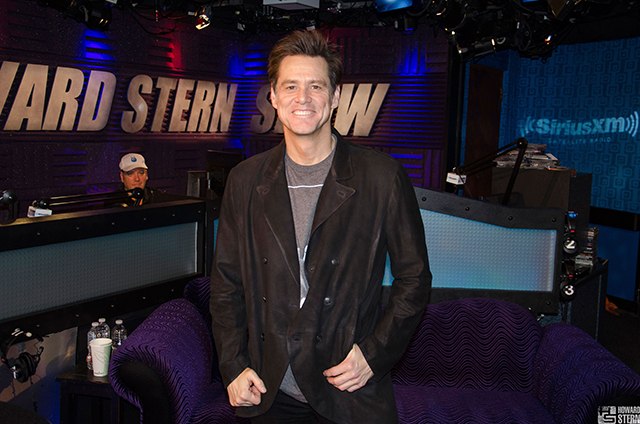 Howard wondered if Jim ever longed to return to the stage and try stand-up again. "I probably would at some point," Jim said. "I don't really feel like doing it right now. I'm painting."
He has mention that he hadn't gone to the Comedy Store in 14 years but he did a few months ago and had comedians make fun of him and it was amazing. He was able to find three of the cast members of "I'm Dying Up Here" in that night.
But these days, what Jim loves is painting! Painting is one of the things Jim points to as explanation for why he's so happy these days. It's a passion he's decided to fully immerse himself in. "That's the key-the key to happiness is total involvement," Jim told Howard.
And part of our happiness is to seen him so happy and listening to just an amazing interview!
-- Click to
comment this article
.
» Send to friend
---
« Newer article
|
Overview
|
Older article »