Cuban Pete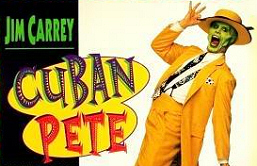 »
About the song
»
Lyrics
»
Music Video
»
Pictures
»
Soundtrack

»
iTunes
About the song



Song Title: Cuban Pete
Release Date: July 26, 1994
Composer: Joseph Norman
Genre: Film work
Featured in: Motion Pictures "The Mask" and "Cuban Pete"
Length: 3:43
Billboard: Cuban Pete - Dance Music/Club Play Singles - Peak no. 42
Billboard: Cuban Pete - Hot Dance Music/Maxi-Singles Sales - Peak no. 21

Cuban Pete, is a Cuban rumba song composed by british Joseph Norman (1906-1990). It was originally featured in the Black and White musical "Cuban Pete" from June 1946. The movie starred Cuban-born American actor Desi Arnaz who adopted the song as his theme song.

Cuban Pete was later performed by Desi Arnaz on his popular television sitcom "I Love Lucy" in the third episode The Diet on October 29, 1951.

Jim Carrey sang and danced his version in "The Mask" (1994). It was released on a CD single by Jim Carrey and features the version from the movie, plus a remixed version by C&C Music Factory.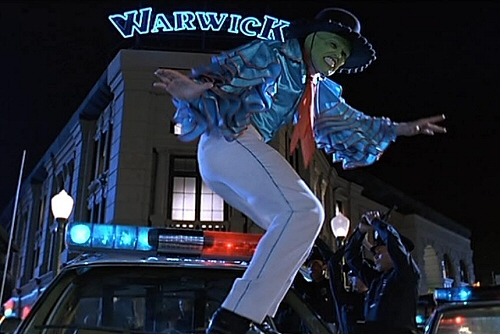 Lyrics



Verse 1 (Male Solo)

They call me Cuban Pete. I'm the king of the rumba beat.
When I play the maracas I go chick-chicky-boom, chick-chicky boom
Yessir, I'm Cuban Pete. I'm the craze of my native street.
When I start to dance, everything goes chick-chicky-boom, chick-chicky boom
The senoritas they sing and they swing with terampero-
It's very nice, so full of spice.
And when they dance in they bring a happy ring that era keros-
Singin' a song, all the day long.
So if you like the beat, take a lesson from Cuban Pete
And I'll teach you to chick-chicky-boom, chick-chicky-boom.

Bridge (Female Solo)

He's really a modest guy, although he's the hottest guy
In Havana, in havana.

Verse 2 (Male Solo)

Si, sinorita I know that you would like to chicky-boom-chick
It's very nice, so full of spice.
I'll place my hand on your hip, and if you will just give me your hand
Then we shall try - just you and I. I-yi-yi!
So if you like the beat, take a lesson from Cuban Pete
And I'll teach you chick-chicky-boom, chick-chicky-boom, chick-chicky-boom

Shake Your Booty, Daddy, Wow!
See ya!

Cuban Pete lyrics © Warner/Chappell Music, Inc., Sony/ATV Music Publishing LLC




Music Video








Pictures



Some pictures from the scene in "The Mask":









Soundtrack



This is a CD single by Jim Carrey. It features the version of Cuban Pete he sang in "The Mask", plus a remixed version by C&C Music Factory. In addition, it features Cuban Pete as performed by Desi Arnez on "I Love Lucy", including an appearance by Lucille Ball as Sally Sweet. The last tracks are Jim Carrey saying some of his lines from The Mask.

Here is the complete track listing:

1. Cuban Pete (C & C Pop Radio Edit) (03:43)
2. Cuban Pete (C & C Radio Edit) (04:06)
3. Cuban Pete (Arkin Movie Mix) (02:10)
4. The Mask Speaks: Let's Rock This Joint (00:04)
5. The Mask Speaks: Did You Really Miss Me? (00:04)
6. The Mask Speaks: It's Party Time (00:04)
7. The Mask Speaks: We Meet Again (Friend) (00:04)
8. The Mask Speaks: You Love Me, You Really Love Me (The Academy Award Special) (00:10)
9. The Mask Speaks: You Were Good Kid, Real Good (Robinson) (00:04)
10. The Mask Speaks: SSSmokin' (00:04)
11. The Mask Speaks: Sshh (00:04)
12. The Mask Speaks: I Was Just Killin' Time (00:04)
13. The Mask Speaks: Somebody Stop Me (00:07)
14. The Mask Speaks: Superhero (00:19)

Total Album Time: 11:07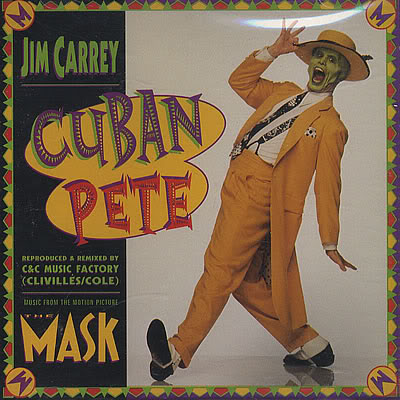 The original soundtrack for "The Mask". It features the version of Cuban Pete he sang in "The Mask", plus a remixed version by C&C Music Factory. The rest of the tracks are other songs from the movie.

Here is the complete track listing:

1. Cuban Pete (C & C Pop Radio Edit) - Jim Carrey (3:33)
2. Who's That Man - Xscape (3:23)
3. This Business Of Love - Domino (3:27)
4. Bounce Around - Tony Toni Tone (4:32)
5. (I Could Only) Whisper Your Name - Harry Connick, Jr. (3:20)
6. You Would Be My Baby - Vanessa Williams (3:54)
7. Hi De Ho - K7 (4:34)
8. Let The Good Times Roll - Fishbone (3:27)
9. Straight Up - The Brian Setzer Orchestra (3:11)
10. Hey Pachuco - Royal Crown Revue (3:06)
11. Gee Baby, Ain't I Good To You - Susan Boyd (2:47)
12. Cuban Pete (Arkin Movie Mix) - Jim Carrey (2:10)


Total Album Time: 40:25