It's Not Easy Bein' Me
Page 1 of 2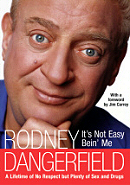 »
Basic Information
»
Related News
»
About the Publisher
»
History
»
Mentions
»
Formats
»
Related Links
»
Full Text

HarperCollins Publishers LLC is one of the world's largest publishing companies. Founded in 1989.

Jim Carrey is mentioned throughout the book in the following chapters:
Front Cover
Foreword:
Page ix, x, xi and xii
Chapter 2
Page 29
Chapter 11
Page 176, 177, 179 and 189
Chapter 16
Page 251
Chapter 17
Page 259 and 260
Acknowlegments
Page 267
Back Cover

The book is released in these formats:
- Kindle Edition
- Hardcover
- Hardcover (large print)
- Paperback

»
Amazon.com
Basic Information
Author
Rodney Dangerfield
Jim Carrey (foreword, page ix-xii)
Illustrator
-
Publisher
HarperCollins Publishers
Publication Date
May 25, 2004
Official Sites
[US]
Format
Hardcover. 9.3 x 6.4 x 1 more »
Pages
288 pages
4 pages (Jim Carrey's foreword)
ISBN
978-0066211077
Genre
Biography / Entertainment
Summary
Rodney Dangerfield was one of the greatest comedians of all time. He had a rough life, but always seemed to find the humor in things. The book is a biography of his life, it is light and funny, and a great way to carry on Rodney's legacy add filled with many of his one-liners.
Multimedia
-
Related News
Jim helps out Rodney
02 Jun 2004
By Wesley Hofmann
(Web correspondent)
In May 2004, Rodney Dangerfield released an autobiography with a foreward by Jim Carrey. This book should be available wherever books are sold! We all know the important friendship between Jim and Mr. Dangerfield, so pick up a copy of what is sure to be a hysterical look at the life of Rodney Dangerfield.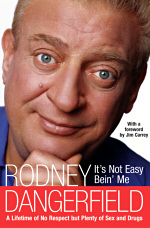 Book cover. Photo © HarperCollins Publishers
You can buy it here:
It's Not Easy Bein' Me: A Lifetime of No Respect but Plenty of Sex and Drugs
-- Source:
Amazon.com
. Click to
comment this article
.
1
|
2
|
Next »