MTV Movie Awards 1999
"Blowin'..."
By BCDavis
Carreyholics finally got to watch the 1999 MTV Movie Awards, which were given out June 10, 1999 and taped June 5.
Jim Carrey was nominated as "Best Male Performance" for his portrayal of Truman Burbank in the dramatic film, "The Truman Show." Carrey won the MTV award for that category, as voted upon by viewers of MTV, via phone and the World Wide Web.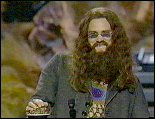 Carreyholics always look forward to the MTV Movie Awards, as Carrey is a favorite attendee. His acceptance speeches are always an enjoyment, and this year's was no exception. However, there was a major question circulating among Carreyholics leading up to the MTV Movie Awards ceremony:
As Carrey is currently filming his next comedy film in Vermont, "Me, Myself and Irene," would he be able to attend the ceremony should he win?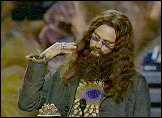 Fans were hoping he would indeed attend, especially if he won for "The Truman Show." Also, Carreyholics have been intensely curious as to what Jim Carrey looks like in costume for "Irene." As a few pictures have hit the Web, fans wanted to get a better look at the currently, often talked about "buzz cut" he sports.
Carrey effectively foiled fans' plans when he came on stage wearing a long-hair wig, long beard and moustache and tinted glasses.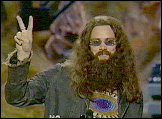 Most fans weren't disappointed at all. As for me, I found it hilarious. The jibe at the Oscars was great, and the mention of just being himself - yet being hidden under that get-up as he said it was funny as all-get-out. But then, there I was, waiting to get a good look at the Rhode Island State Trooper influenced buzz-cut, and he comes out under all that hair! Thanks, Jim! I guess we'll have to wait until the "Irene" trailer is released.
Video:
1
©
MTV