57th Golden Globe Awards
But was it really a comedy?
by BCDavis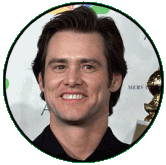 The 57th Annual Golden Globes found fierce competition for the Best Actor in a Comedy or Musical Motion Picture with Jim Carrey, Robert DeNiro, Rupert Everett, Hugh Grant and Sean Penn. But when it came down to "...and the winner is," Jim Carrey walked away with the trophy.
Carrey has won two of the coveted awards in consecutive years. He won last year for Best Actor in a Drama Motion Picture for "The Truman Show."
Ironically enough, Jim asked why he won for best comedy, as he said to Dick Clark in a quick interview, "I thought I made a drama." Carreyholics agree, wondering why "Man on the Moon" was not nominated as a drama.
Jim Carrey's Acceptance Speech Transcript
Jim Carrey hugs all the people at his table and kisses Renée Zellweger. He then makes his way to the stage, singing the song "The Great Beyond" by REM. Then he pretends to fight his way through tables of people before reaching the stage. He gets on stage and receives his award.
"Sure! I'll take that." (Receives winner's envelope with the award)
(Somebody from the audience yells something to him)
(Looking for source of the yell) "Hello..."
"Wow! This is a surprise. Ah, gosh... Another one... Second year in a row... What's goin' on here man? I'm the Establishment's I once rejected. Wow... Now I know what it's like to produce 'Frasier'. (Faking indifference) 'Thank you again anyway...' (Fakes walking off stage, then returns) I'm the Tom Hanks of the Golden Globes." (Laughs)
"Oh, gosh, so many people to thank... Milos Forman, thank you, sir, for allowing me to work with you. You're a wonderful human and a fantastic artist. So supportive of all the nonsense. And, ah, and I just, I am so excited to have worked with you, and I hope we can do it again. And I... geeze, it was an amazing experience. I was a very silly person, on this movie. And, um, Danny Devito, Jersey Films. Thank you guys, so much. You guys are wonderful. Danny Devito, a giant in the business, ladies and gentlemen. Pound for pound, tougher than a grizzly bear. All right!!" (Jim laughs)
(Danny Devito stands and assumes a muscle pose)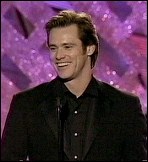 "Oh, gosh, I wanna thank... Jimmy Miller, Eric Gold, Nick Stevens, Debbie Kline, Marleah Leslie... I'm gonna forget someone and it's gonna be bad... Ah... Courtney Love, ladies and gentlemen. (Points to her in the audience) Who, by the way, when she leaves later will be the one responsible for the personality vacuum. Ah, and... (Laughs again) I'd like to thank my family, I'd like to thank everybody I worked with... um, geeze, Jane, 'Hi!', um..."
"This is wonderful, really is. And, I really don't... I wasn't expecting it, so I didn't write anything. (Looks at award in his hands, makes a funny face) But I'm doing okay! No, I am!"
"But, y'know, I was a little shocked that it was in the Comedy or Musical category, actually. But, y'know, I'll go with it. I'll get a song book. Right to Broadway, man. (Sings) 'You can't shoot a man with a gun! With a gun!! With a gun!!!'"
"I'm going for it man, thank you very much! I appreciated it! All right!"
Backstage Interview Transcript
Dick Clark - Hey, Jim, can I hold you for half a second here?
Jim Carrey -
Oh, yeah.
Dick Clark - You said something about... you were surprised that it was listed as a comedy?
Jim Carrey -
Yes, I was, actually. I thought I did a drama.
Dick Clark - Were you a fan of Andy Kaufman's?
Jim Carrey -
Oh, absolutely. He was a tremendous pioneer, y'know. He was a gutsy dude who kinda went through the door and took all the flak, and, ah, opened things up for people like me.
Dick Clark - Did you ever see him in person?
Jim Carrey -
I never saw him live, never saw him live. But I was a crazy fan, and as I went along, I started getting these tapes and these little blurbs of the things he did, and I was just totally fascinated by it.
Dick Clark - It was an extraordinary performance. Congratulations once again. To the press room! Thank you, sir!
Pictures: Gallery