Song and Dance Man
By BCDavis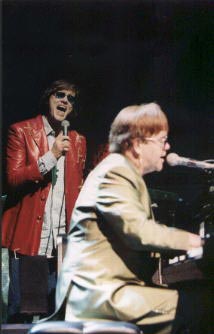 ANAHEIM, CA - Sir Elton John decided to surprise his audience at his sold-out Anaheim concert with a little surprise guest appearance from none other than Jim Carrey.
Taking the stage in one of Sir John's fire-engine red jackets, Jim joined Elton in a rousing duet rendition of Elton's classic "Rocket Man." Carrey matched Sir John note for note as they traded off verses, and split into harmony when the chorus came along.
At one point towards the end of the number, Carrey ad-libbed a line of the song, changing "a long, long time" to "friggin' forever." Sir John chimed right in, echoing the line alteration. Jim also decided that Elton needed a piano duet, and so joyfully sat down beside him and played along - with his head. Surprisingly enough - it was in the right key.
Since this entire event took place during the middle of the shoot for Jim Carrey's upcoming film about the life of Andy Kaufman, "Man on the Moon," many Carreyholics see it fitting that Carrey shows his "song and dance man" so impromptu. Andy would be proud.
Pictures: Gallery Audio: 1 Video: 1 | 2 | 3
Files courtesy McMullen & Company Public Relations.