NEWS
Giving Birth to the Horton movie
09 Mar 2008
By TNPihl
(JCO Editor-In-Chief)
Horton began his new journey to the big screen in 2003, when executive producer Christopher Meledandri, then president of Twentieth Century Fox Animation, which supervises the East Coast-based Blue Sky Studios, approached Dr. Seuss Enterprises and the author's wife Audrey Geisel, about creating a 3-D animated movie based on "
Horton Hears a Who!
" Meledandri's proposal to Audrey went far beyond simple business interests. "Ted Geisel had one of the greatest imaginations of the twentieth century," he says. "His books were a seminal part of my childhood and I have always wanted to find a way to make a digitally animated Dr. Seuss movie."
The book's narrative structure was of particular interest to Meledandri and Fox Animation. "It's one of the few Dr. Seuss books with three acts – a great beginning, middle and end. And of course, 'a person's a person no matter how small' is a wonderful theme."
Audrey Geisel wanted to make sure that the film adaptation be respectful of her late husband's book. Meledandri assuaged her concerns, pointing out to her the considerable merits of CG animation and the proven successes of Blue Sky Studios, whose "Ice Age" and "Ice Age: The Meltdown" created fantastical characters; and whose "Robots" depicted a fantastical world. The films' artistry enveloped audiences in their environments and characters, suspending disbelief that they weren't "real." That same magic, Meledandri told Audrey, would do the same for DR. SEUSS' HORTON HEARS A WHO!
To help close the deal, Meledandri asked Mike De Feo, head of Blue Sky's sculpting department, to sculpt a pivotal scene from the book, in which the Mayor holds his son Jo-Jo above his head. As it turned out, the scene was one of Audrey's favorites, and she loved the sculpture. Some time later, development commenced on the first CG animated feature film based on a work by Dr. Seuss. Horton, the Mayor, Jo-Jo, the Kangaroo – and all the beloved characters in the jungle of Nool and in the city of Whoville – were on their way to movie stardom.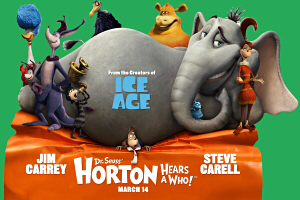 © 20th Century Fox
To guide their journey, the studio tapped Jimmy Hayward and Steve Martino to direct. They were a perfectly matched duo to bring Horton to digital life. Hayward was an animator on the groundbreaking Pixar films "Toy Story," "Toy Story 2," "A Bug's Life," "Monsters Inc." and "Finding Nemo"; and a story consultant and director of additional scenes on "Robots." Martino, as art director on "Robots," helped create the first animated feature that presented a totally imagined world – a wondrously clanky universe populated solely by mechanical beings.
Hayward and Martino's mandate was to stay true to Seuss' themes, characters and visuals. They based much of the look on Seuss art taken directly from the book, while other designs in the film are extrapolated from the author's drawings or notes. Additionally, the filmmakers strove to push the medium of CG animation as far as possible, mixing old and new techniques to provide a look never before experienced in a motion picture, yet reminiscent of the era – the 1950s – the book was published. "We pushed everything, creating weird, fun Seussian colors and shapes, but with real textures," says Hayward.
In previous live action movies based on Seuss' works, the filmmakers had to try and get around real-world constraints in design, movement and anatomy. "We didn't have that problem," says Hayward, "because this is a CG movie. For the first time in my career, we could push the animation to all kinds of crazy places just as Seuss pushed his work into some wildly imaginative areas."
-- Source:
Twentieth Century Fox Animation
.
» Send to friend
---
« Newer article
|
Overview
|
Older article »